School Info
Address
901 Airport Way
Fairbanks, AK 99701
School Hours
Students: 7:45 am - 2:15 pm
Office: 7:00 am - 3:30 pm
Robert Meade
Senior High Principal
robert.meade@k12northstar.org
456-7794
Announcements & Upcoming Events
Intensive SAT Practice Class Boot Camp 2015
The classes will be held at Lathrop in Room 206 on the following dates....

February 27, 28,
March 6, 7, 27, 28, 31
April 2

This class is open to all interested high school students in the district. Sign up in the Counseling Office.
Instructors: Susan Stitham, former Lathrop English teacher (907) 347-1218 Marion Stone, current Lathrop math teacher 456-7794 (17206)
The fee is $150.00 and payment is due at the first session. (half the proceeds will be donated to Scholarship funds) Fee entitles student to attend all sessions. Please make checks out to Susan Stitham.

We will be using Cracking the SAT 2015 by Princeton Review. Books are available through local bookstores and on-line. Price is approximately $22.00 and includes a CD rom with practice tests. (less without the cd.)

Lathrop High School boasts a shop class for the 21st century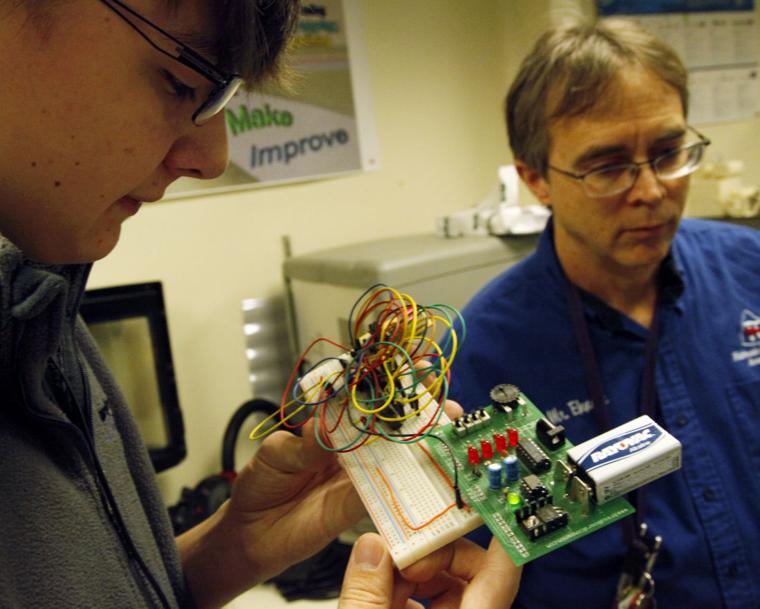 FAIRBANKS — The maker space at Lathrop High School is a hive of ingenuity, design and problem solving.
A 3-D printer makes plastic prototypes that can later be cut out of wood or metal on milling machines. A laser cutter can make incisions far more accurate than the steadiest surgeon. A vinyl cutter, computer-
controlled plasma cutter, custom circuit board printer, large-format printer and all the usual hand and power tools round out the arsenal.
Call it a 21st-century shop class.
Read full article
Student Assessment Pilot Test
The district has begun a pilot test of the Measurement of Academic Progress (MAP).
MAP is a nationally-normed assessment for reading, math, and science that compares a student's achievement level with their peers throughout the country. MAP is used by school districts across the nation to measure student growth and identify learning needs. The Fairbanks School District will use this pilot test to determine if MAP will be a useful tool for assessment of student learning objectives and meet the need for a district-wide, norm-referenced assessment.
If you have questions about this activity, please contact your school principal.
Order Your Yearbook Today!
Go to www.yearbookforever.com to order a yearbook.
ATTENTION PARENTS OF SENIORS!!-The Lathrop yearbook is now selling senior ad space for you to brag about your student with photos and messages of congratulations.
The yearbook staff will design it for you or you can build the ad yourself at the above yearbook link.
You may also pay for the ad online and have the yearbook staff design it for you.
For more information and to reserve a page please email brian.schneider@k12northstar.org
Senior Ad Prices:
1/4 page $100
1/2 page $185
Full Page Yearbook order forms can also be picked up at the main office or downloaded from the Lathrop's website.
You may also download an order form and turn it in to the main office.
Bus Stop Map & Schedule
Enrollment Information
Parent/Guardian Email in PowerSchool Premier
Hello Parents/Guardians,
If you have not logged into PowerSchool Premier and updated your guardian email account, you will not receive emails from teachers or the Lathrop Malemute Daily Bulletin. Please be sure to update your account as soon as possible in order to receive information from Lathrop High School. School staff cannot update this information for you--you have to personally login and make the updates yourself. If you have questions, contact Jodie Ellingson in Counseling at 456-7794 x17503.
Policy Regarding Students in the Building After School
The only students allowed in the building after 2:45 p.m. each day will be those students participating in school activities or with an adult supervisor.
Safety Assistants will require all students not participating in school activities to wait at the main school door entrance, but by 2:45 they should no longer be in the building.
For students who are enrolled in an after school activity, their ride should be here within 15 minutes of the end of that activity.

If you have any questions or concerns, please contact Principal Robert Meade at 456-7794 or robert.meade@k12northstar.org.